Welcome to Atlanta Vocal Project
AVP Christmas Show - December 4th, 2 PM

An afternoon of festive a cappella music from internationally awarded choruses and quartets.
Purchase your reserved seating tickets today from the Roswell CAC box office!
$20 each, or $15 for seniors, students, & military. Contact us for group rates.
No front page content has been created yet.
Featured Events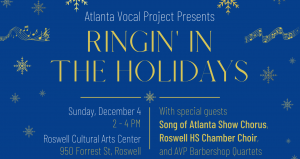 AVP is "Ringin' In The Holidays" at the beautiful Roswell Cultural Arts Center on Sunday, December... more
Recent news
After a fun and successful International contest experience, we are on a short summer break, returning on... more
February 10, 2022 - 10:28am
Barring further update, AVP is meeting weekly in person at St John UMC in north Atlanta (south of Sandy... more
About us
Under the direction of Clay Hine, Atlanta Vocal Project is an award winning Atlanta metro a cappella chorus specializing in the barbershop style. Our vision is to enrich lives in every generation in our surrounding communities with performances, music education, school system programs, and community activities through the lifelong benefits of a cappella harmony singing.
We regularly perform across North Georgia and compete in choral competitions across the US and beyond. We're always open to new singers and new performance requests. Visit one of weekly open rehearsals, or contact us for more info, and help us in our ongoing mission of spreading harmony.
If you're looking to hire musical entertainment for your organization or event, we can provide music for nearly any occasion, from 4-singer quartets to a full chorus of over 30 members, certain to make it a memorable, inpactful day with professional musicanship.