This year we have two exciting options for Singing Valentines: in-person quartet serenades and virtual custom videos! See below for details on both.
Singing Valentines (live, in-person):
ORDERS HAVE ENDED, BUT WE STILL ACCEPT SPECIAL REQUESTS TO SING FOR ANY EVENT YEAR ROUND, SO PLEASE CALL OR EMAIL US TODAY TO REQUEST A QUARTET OR CHORUS SERENADE OR ENTERTAINMENT PACKAGE! You can email [email protected] or call 404-941-6385
Our popular live quartet serenade tour is back! For a truly memorable Valentine's experience, we will send out a talented barbershop quartet (think "singing telegram") on the 14th to serenade a loved one in Atlanta and surrounding suburbs with two classic love songs, while hand-delivering a rose and personalized card, all starting at $40. (Narrower time window requests incur an extra fee.)
Have a special request in mind, like singing in a restaurant or for an assisted living home? Contact us and we'll try to make it work. We're flexible! Order soon to secure your spot.
** Order today: Eventbrite Order Form **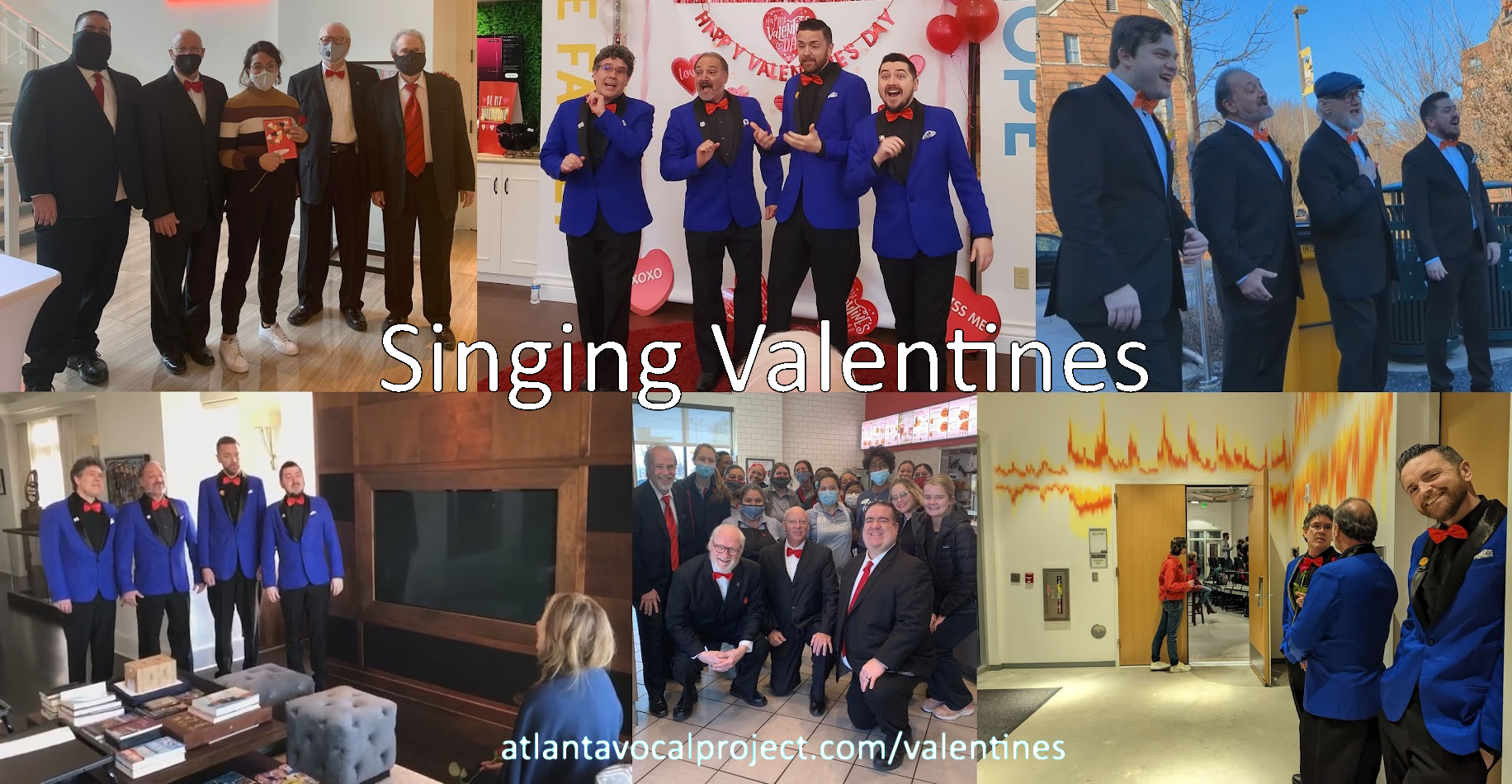 We are able to fulfill orders within this general area. If you'd like a SV outside this area, contact us to see if we can make it work. Additional fee may be required.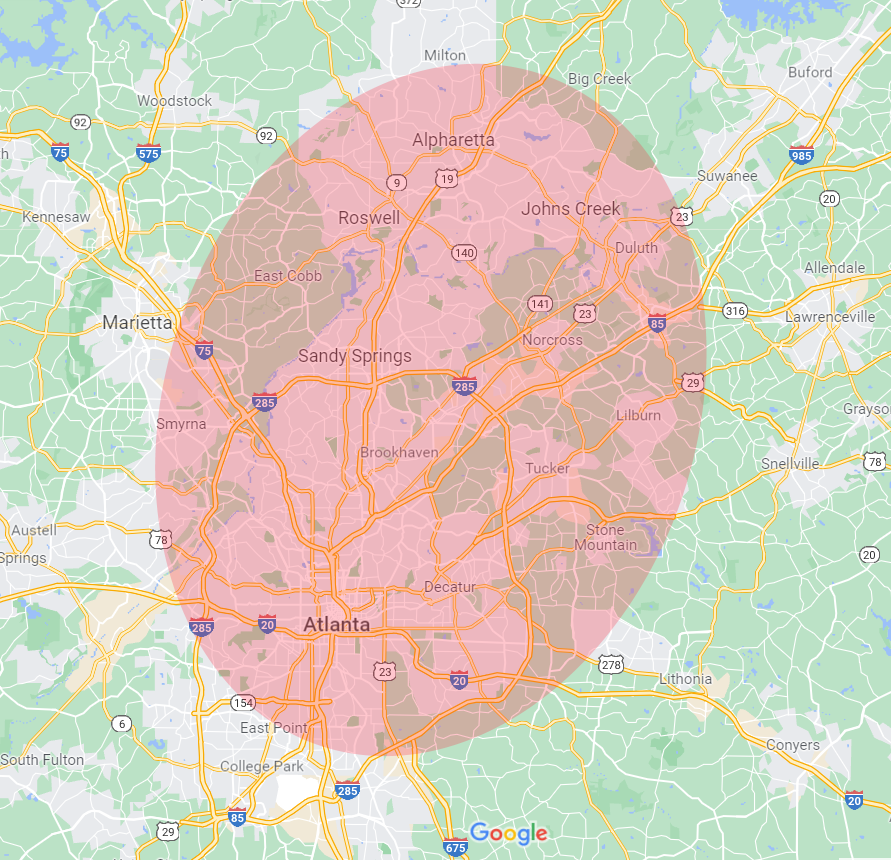 Or consider one of our virtual singing valentines! Details below.
Virtual Singing Valentines:
VALENTINES ORDERS HAVE ENDED, BUT WE CAN STILL CREATE CUSTOM MUSICAL VIDEOS FOR ANY OCCASION, SO PLEASE CALL OR EMAIL US TODAY TO REQUEST A VIRTUAL SINGING VALENTINE STYLE VIDEO! You can email [email protected] or call 404-941-6385.
* Click this video for a promotion sample to see and hear what to expect. *
Serenade a loved one from the comfort of home this Valentine's Day with a virtual Singing Valentine video performed by Atlanta Vocal Project barbershop chorus, featuring special guest: YOU!
To use our a cappella recording of the classic song Let Me Call You Sweetheart, select from 4 levels of personalization starting at just $20, to include your own meaningful photos, video clips, and message text, and even record your own spoken or SUNG declaration of love to the person who's worth it. We'll send your custom musical video to you or your recipient on Valentine's Day. Skip the flowers and chocolate this year and give a unique experience that can be kept for a lifetime.
Read the different package descriptions below, and then click here to order one or more Virtual Singing Valentines: Eventbrite Virtual Ordering
| | | |
| --- | --- | --- |
| Audio performance of AVP chorus singing Let Me Call You Sweetheart, with a slideshow including photos you provide, and your own custom message overlaid in text. | $20 | |
| Adds an extra music section sung by an AVP quartet, with a custom spoken voice-over recorded by you, and allows your own video clips to be used in addition to photos. | $35 | |
| Record yourself singing a solo verse to our background music, still with your own photos and video clips. Be the star! | $60 | |
| Record yourself singing melody alongside our quartet, which we will mix into our track, including some basic audio enhancement so you can serenade at your best! And we'll work with you for any extra customization ideas you have (subject to availability of time and technology)! | $90 | |
| Want your Singing Valentine to be a bit more "in the moment"? We'll sing over the phone ($25) or video chat ($35) to anywhere in the world, and deliver any special message you choose! | $25-$35 | |
Order deadlines:
Standard Package - February 10th
Enhanced Package - February 8th
Deluxe or Platinum Package - February 5th

Frequently Asked Questions (Virtual SVs)
What is a virtual Singing Valentine, exactly?

We will create a custom video 1-2 minutes long with a presentation of images or video, both ours and your own, set to our special love song recording, for you to send to a loved one. The promo video above gives a modified sample idea of what the video might look and sound like.

When and how will it be sent?

We will upload as an unlisted YouTube video and email the link to the buyer's choice of themself or the loved one directly, on February 14th (or earlier if requested). We can even send the full video file if you prefer.

How do I customize it?

Once you order a package, an AVP representative will contact you within two days to give you instructions on where to send your custom media files, including photos, video, or audio recordings.

What is the custom text overlay?

You can provide one or two messages of text to be displayed in the video over some of the images (see promo video for how that might look), entered during checkout. For the Enhanced and Deluxe Packages, you can request additional messages if you like, but sometimes less is more, so try not to go overboard!

What is the spoken voice-over for the Enhanced Package?

In the promo video, you'll notice our speaker's silky voice is mostly over background singing with no words. This section is designed for you to record your own greeting or heartfelt message to be played over this bed of "ooh"s. We recommend about 15-20 seconds (nothing too offensive, please!) recorded with a phone or quality microphone in a quiet room. You can send the recording to us along with the other photos or video files. Or if you prefer, you can write up a message and ask one of us to record it instead.

What is the singing option for the Platinum Package?

Live out your dream of joining a barbershop quartet! We'll send you sheet music and audio guide tracks for you to record yourself singing along to our quartet for about 25 seconds of the song, and we'll insert your recording as the lead part. We'll even digitally touch up the recording a bit to make sure you sound great (or you can ask to go for charmingly off-key if that's your thing). And if you order the Platinum Package, we'll let you request any other customizations you can think of, as long as it's within our ability and time restraints. You deserve the best!

How do I order more than one Singing Valentine?

Our virtual Singing Valentines can be perfect for many different types of relationships. If you want to get multiple (hey, we won't judge), place separate orders for each one. Just make sure you don't mix up their names, or you might be in the doghouse! Seriously though, these are also great for children, grandchildren, and dear friends.

What is the money going toward?

Atlanta Vocal Project is a 501c3 non-profit organization dedicated to musical entertainment, outreach, and education across the metro Atlanta area and beyond. This project helps fund our work and expenses.

Ok, how do I order?

Click on the Eventbrite links to get started! Then click "Tickets," choose your options, and fill out all relevant information for your order.

I'm interested in joining your chorus! How do I do that?
I have other questions. How do I contact you?
Please note: fulfillment of SV orders, especially in-person, is subject to availability and may be affected by external factors. If we have to cancel your order, you will be given advance notice and a full refund. But we will first make every effort to deliver our awesome product!